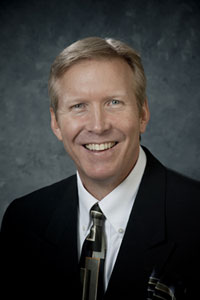 Dr. Steven E. Nauss
A talented and attentive dentist, Dr. Steven Nauss is dedicated to making a difference in his patients' lives by providing exemplary dental care. He knows that it takes more than just a good technique to be a great dentist-it takes commitment, understanding, and most importantly, a genuine interest in patient health and safety.

Dr. Nauss, a graduate of the well-respected University of Tennessee College of Dentistry, has extensive training in cosmetic, restorative, and family dentistry. After earning his dental degree, he completed a one-year general practice residency at the University of Tennessee Medical Center in Knoxville. Since then, he has kept his clinical skills current through a series of reputable continuing education courses, including the Ross Nash Continuum of Cosmetic Courses in Charlotte, North Carolina.

After devoting nearly 15 years to his neighbors as a dentist with a community health center, Dr. Nauss opened the doors to his own practice in early 2002. Having a private practice, he says, allows him to enhance his skills and really take advantage of the exciting new advances in dentistry.

Dr. Nauss is currently studying with the Dawson Center for the Advancement of Dentistry. He has been active in the Zimmer Dental Implant Peer Practicum over the past year. With these additions to his education and studies, Dr. Nauss has added a new piece of technology to his practice, to enhance the benefits and services he can offer to his patients. He has added CEREC 3D to the practice. He also received training for CEREC 3D. CEREC 3D is a terrific addition to the practice. Through this technology he is able to offer single visit services for restorations such as porcelain crowns, inlays and onlays. This service eliminates the need for multiple appointments, temporaries, and the additional anesthesia and drilling that would be needed for multiple visits. CEREC 3D provide gorgeous aesthetics and is just another example of how Dr. Nauss is providing beautiful and healthy smiles to his patients.

Dr. Nauss is a member of numerous professional organizations, including the American Dental Association, the Academy of General Dentistry, the Tennessee Dental Association, the Second District Dental Society of Knoxville, and the Lonesome Pine Dental Society. When not designing dazzling, healthy smiles for his patients, Dr. Nauss enjoys gardening, reading, and exercising.